Wednesday morning we flew in a two engine, propeller driven plane from Boise to Portland. DC doesn't consider being in an airport to be a visit to a state so as soon as we left Portland International, his presence in Oregon made him "contiguously complete." He had now been to each of The Lower 48.
We didn't have a whole lot of time to kill in Portland so we asked the woman who waited on us at the at the car rental counter what she would see if she only had time to do one thing there. Her suggestion was a good one - Multnomah Falls, which has been designated as the second highest year-round waterfall in the United States.
We drove out to the Columbia River Gorge and found the falls, right by the highway. It took us about 45 minutes to make the 620 foot climb up the steep, winding trail that leads to the top. A good workout was rewarded with a great view.
After getting our exercise, we hit the road, driving two hours to Eugene. It was a very nice drive - Oregon is a truly beautiful state. DC describes it as "Vermont on steroids"- bigger mountains, bigger trees, more of them. He lived in Vermont for years and loved it, so that was a huge compliment.
We were there to see the Eugene Emeralds, who'd been the visiting team in Boise the night before. Their home field is PK Park, which was opened in 2010 and is part of the University of Oregon's athletic facility. It sits between a soccer field and Autzen Stadium, the university's large football stadium. The university's athletic department receives a lot of money from Nike and they have some really nice facilities to show for it. PK Park is a much nicer ballpark than Memorial Stadium - new scoreboard with video, field in better shape, better seating etc. Not only is it the nicest Single-A park we'd ever been in, it's nicer than several higher level parks we'd seen.
The Emeralds played a much better game than they had the night before but one bad play, a wild pitch, allowed the Salem-Keizer Volcanos to win by a score of 2-1.
We spent the night at a very nice hotel in Sutherlin, Oregon and hit the road early the next morning. We had a lot of ground to cover but had scheduled an interesting break in the trip.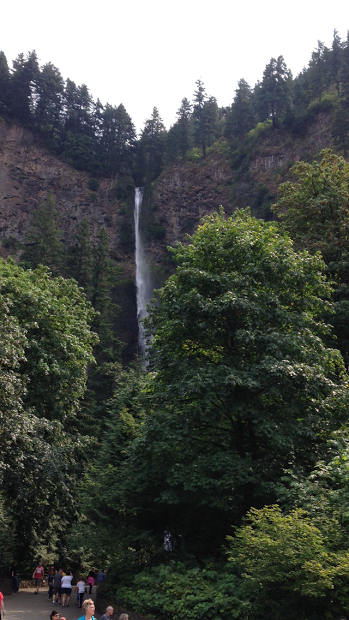 Multnomah Falls - this is the first, but not
the last, time well say "pictures don't do it
justice" about things we saw on this tour.