Then it was on to Louisville Slugger Field, the home of the Louisville Bats, the Triple-A affiliate of the Cincinnati Reds. Like Huntington Park, it's a nice brick ballpark located in the heart of downtown. The Bats opponent was the host team for the previous night's All-Star Game, the Columbus Clippers, the Triple A affiliate of Kevin Bresnahan's beloved Cleveland Indians. Kevin would have been pleased as the future Indians beat the home team by a score of 6-4.
One of the Clippers' runs came when the Bats' catcher was called for blocking the plate without possession of the ball. By this time, we'd already been exposed to the know-it-all attitude of the person next to us in the front row behind the home dugout. The blocking the plate call really set him off.
His heckling was so annoying and relentless that the Bats players – mind you, the team who was on the wrong end of the call in question, the team that the heckler was rooting for – started throwing sunflower seeds at him.
Because we were getting a really early start on the road the next day, we left a little before the end of the game. As we made our way down our row, DC made sure to tell everyone there that we were NOT with the guy next to us.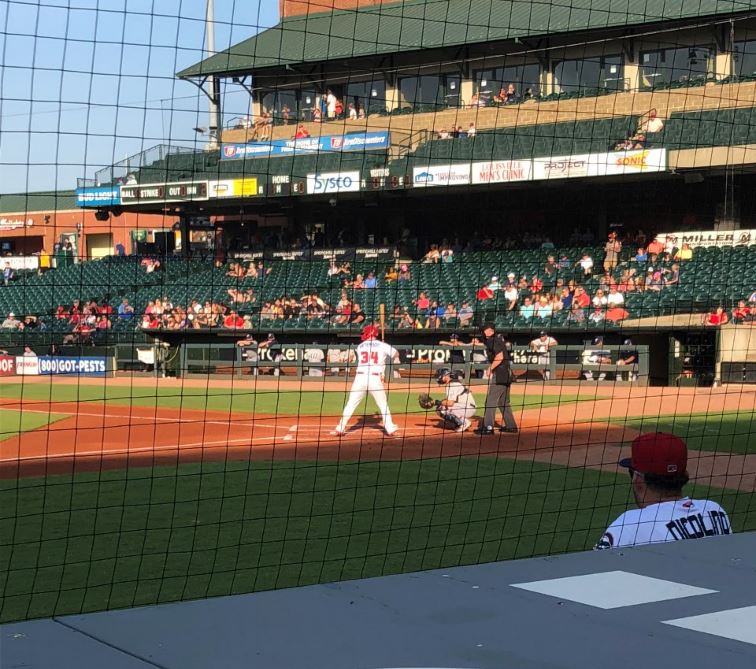 We had pretty good seats in Louisville.